Posted on:

27 January 2016
Following the announcement of the availability of the Alumni Academic Excellence Award for top UPPI Student, Dr. Maria Midea Kabamalan, UPPI Director, announced the first recipient as Mr. Joshua Mariano.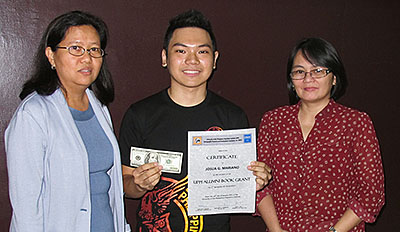 From left
Dr. Midea Kabamalan, Mr. Joshua Mariano, and Prof. Paz Marquez
Mr. Mariano is a first year Master in Population Studies student. He has the highest general weighted average of 1.50 last semester, where he was a full-time student with 13 units load.
The gran was established through the donation of two UPPI alumni to the Demographic Research and Development Foundation. Every semester, the student who has the highest GWA for a minimum of nine units the previous semester is awarded the grant, amounting to 100 US$ (or its peso equivalent). The award is aimed to assist the student in acquiring textbooks, materials and other school-related needs.
Share