Posted on:

14 October 2022
PH sees dramatic decline in teen childbearing
More than 386,000 or 6.8% of Filipino girls aged 15-19 have begun childbearing, the 2021 Young Adult Fertility and Sexuality Study (YAFS5) reveals. This represents a 50% decrease from the 13.7% teenage childbearing rate recorded in 2013.
Since 1994, the UP Population Institute (UPPI) has monitored teenage fertility through the YAFS, the only nationwide study focusing on the age group 15-24. Between 1994 and 2002, the percentage of young women who have ever been pregnant hardly changed from 7.1% in 1994 to 6.9% in 2002. However, this percentage rose dramatically from the early 2000s to the mid-2010s, more than doubling from 6.9% in 2002 to 14.4% in 2013, but has gone down to 7.2% in 2021 (Figure 1).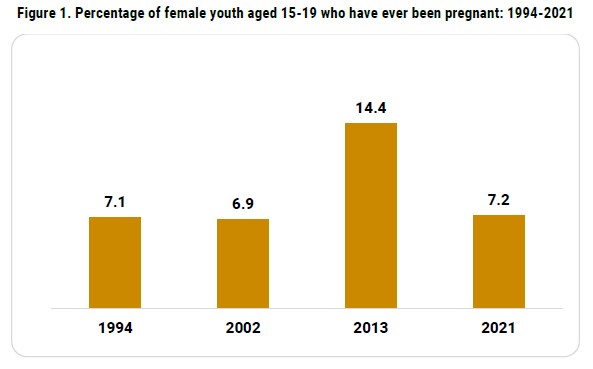 The current figures translate to 406,000 ever-pregnant teenage girls, of whom 306,000 have already given birth and 79,000 are currently pregnant with their first child. Some 20,000 first-time pregnancies, on the other hand, resulted in either non-live birth or an abortive outcome.
Despite the huge progress in reducing teenage pregnancy and childbearing, more than half of the regions posted figures that are higher than the national average (Table 1). In particular, Davao Region and the Bangsamoro Region posted teenage pregnancy rates of at least 10%. Notably, too, Eastern Visayas had the highest percentage of female teenagers who were currently pregnant at the time of the survey, comprising about half of its youth who have ever been pregnant.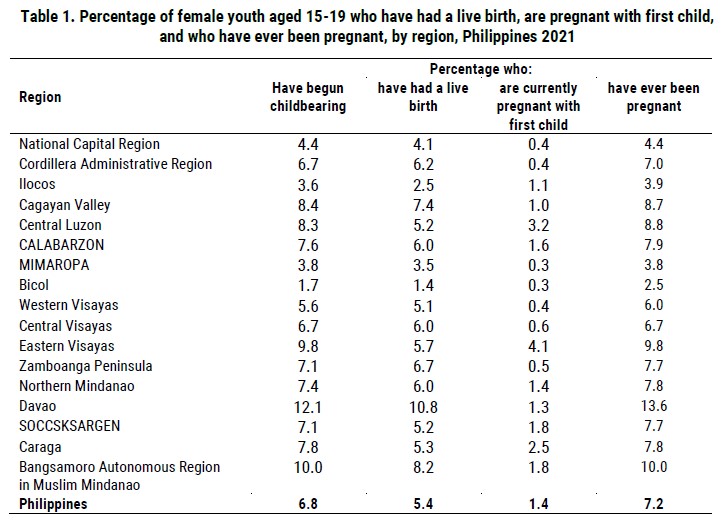 Reducing teenage pregnancy is among the goals of the Adolescent Health and Development Program of the Department of Health, which funds the YAFS5, given the widely documented effects of early childbearing on young women's sexual and reproductive health (SRH), their education and employment, the health of their children, and its impact on the economy. This objective also aligns with the United Nations' Sustainable Development Goal 3 (SDG-3) target of ensuring universal access to SRH services and integration of reproductive health into national strategies and programs.
---
Download this press release here.
Share