FIELDNOTES: The real physical work behind survey data
Joan Ocampo is not used to long travels. Her physical activities are limited by her asthma. Thus, she took it as a challenge when the University of the Philippines Population Institute (UPPI) engaged her as a field interviewer for the 2021 Young Adult Fertility and Sexuality (YAFS5) in Marinduque.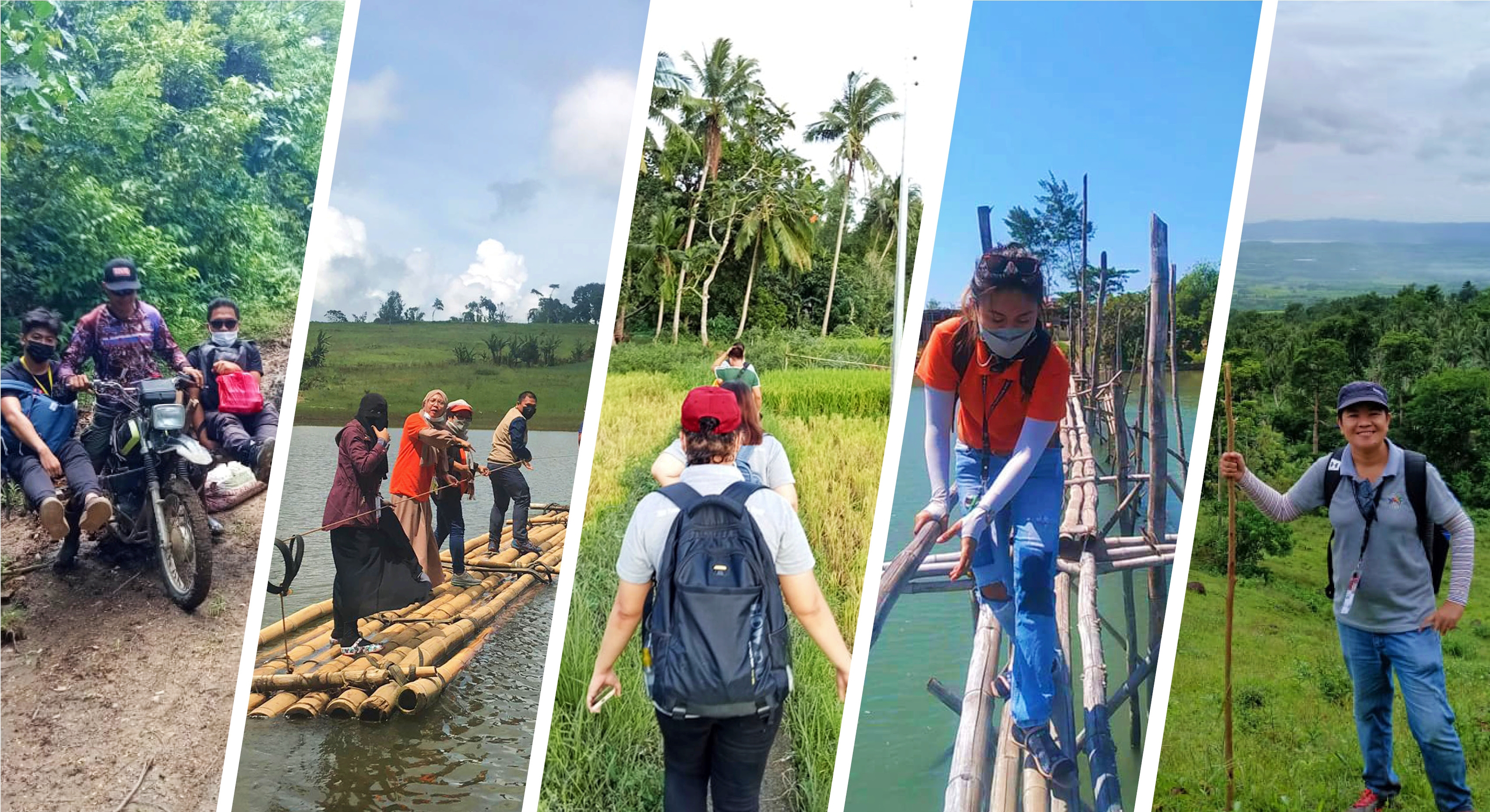 "It's really a first time for me to do hiking, two times…Luckily, I didn't have an asthma attack during that time. Kinaya naman po," Joan said laughingly during the debriefing session of MIMAROPA field teams.
Their field team had to walk through mud, cross boulders, trek steep mountains, and even ride a boat to access several sample barangays in Marinduque and interview sample households and youth. Joan recalled that in one instance, a sample household was located at the top of a mountain, a few hundred meters above sea level.
"I was born and raised here, but I never imagined the places I've been to. May ganoon po palang places dito sa amin," she said, emphasizing the value added by her first experience as a field interviewer to her profession as a nurse and a teacher.
Joan's experience is shared by every field staff of YAFS5, who journeyed over various terrains to collect data from a total of 951 nationally and regionally representative sample barangays in the Philippines. The field staff was hired not only based on their experience but also their language and knowledge of the geography and customs of their respective regions.
Prior to the start of fieldwork, the list of randomly selected sample barangays was reviewed to examine the logistics and ensure the viability of fieldwork, especially in remote barangays. Still, it was a common experience for field staff to face difficulty in accessing far-flung areas. Many teams, especially in Mindanao, hired habal-habal to get to areas that other modes of public transportation cannot reach. Several areas, on the other hand, could only be accessed on foot.
The debriefing sessions with the regional teams surfaced such experiences by the field staff. In Regions 4A and 6, teams recalled having to walk through vast paddies just to reach one sample household. In Region 3, a team had to cross a swinging bamboo bridge to conduct fieldwork in one sample barangay. Similarly, in the Bangsamoro Region, another team needed to ride a makeshift raft or gakit to traverse a river.
Within these remote barangays, several teams reported lack of access to drinking water and network signals. In most cases, households in these barangays are also dispersed and far apart, with some sampled households located more than a kilometer away from the barangay proper.
"We took a risk in pushing for face-to-face interviews for this round of YAFS. To be confident that the data we collected represent the experiences, sentiments, and values of today's young people, YAFS5 has had to be done this way despite the challenges and limitations brought about by the pandemic." said Dr. Maria Midea Kabamalan, YAFS5 project coordinator and professor at the UPPI.
She added that it is important that the DOH and other government agencies are provided with updated information about the youth, so that their programs and policies will be in tune with the current needs of this population sector.
When a myriad of methodologically unsound and misleading polls undermines public confidence in survey science, field workers like Joan testify to the amount of planning, preparation, and actual physical work entailed by survey undertakings like YAFS5. On the part of Joan, she said their strenuous journey was all worth it once they set foot on the barangay.
"The hospitality of every municipality was overwhelming. Hindi po kami nahirapan dahil cooperative ang mga interviewees namin…Habang tumatagal ang interview, nag-o-open up sila," she said.
Data collection for YAFS5 is already completed, and the data are now being prepared for report writing. The YAFS5 report is set to be released later this year, while selected findings will be released on the UPPI website and social media accounts in the next few months. Towards the end of the year, the data will also be made available to the public for further analysis.
---
YAFS5 is on Twitter (@YAFS5PH) and Facebook (@YAFS5PH). Let us hear your views by using the hashtags: #YAFS5PH #TanongParaSaKabataan #KabataangPinoy
Share