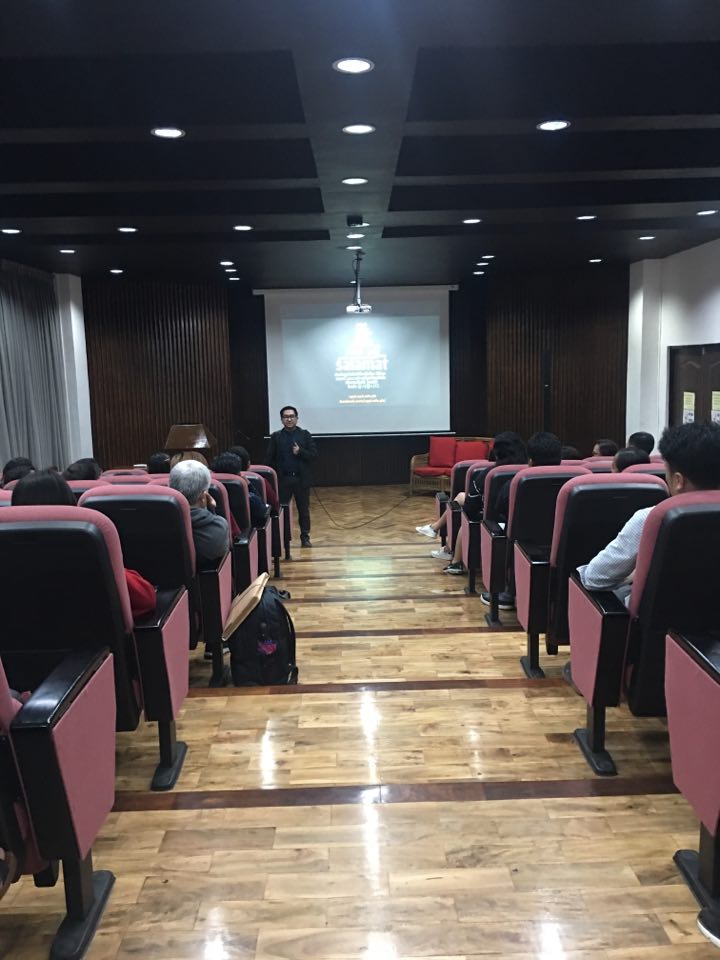 Mr. Manalang delivers a talk during
the orientation in UP Baguio
The UP Population Institute took advantage of the academic lull from May to July to recruit prospective enrollees and introduce the UPPI to target young professionals and recent college graduates. The career talks were succeeded by the orientation of newly-enrolled students, and the awarding of the Excellence Award to the best-performing graduate student for the past semester.
Career Talks
With the aim of bumping up the number of enrollees for UPPI's two postgraduate programs, Master of Arts in Demography (MADEM) and Master in Population Studies (MPOPS), a number of career talks were conducted around the country:
March 21- Polytechnic University of the Philippines (PUP) with Dr. Grace T. Cruz and Dr. Maria Midea M. Kabamalan as speakers
April 30- University of the Philippines Los Banos with Dr. Grace T. Cruz as speaker.
May 16- University of the Philippines Baguio with Dr. Josefina N. Natividad and Mr. Job Manalang, CAR-POPCOM Information Officer and current MADEM student as speakers.
June 14- UPPI Seminar Room with Dr. Grace T. Cruz as speaker.
Aside from these activities, online recruitment was also ramped up with a two-month advertisement offensive on Facebook. Posters were also sent to various universities not reached by the career talks such as Xavier University, Ateneo de Davao University and University of San Carlos. Combined, these appeared to have worked with a palpable increase in enrollees.
Dr. Nimfa Ogena introduces the UPPI to incoming students
Orientation of Students
The UPPI conducted an orientation for new students on July 31. Done annually, the aim is to introduce the new students to the Institute, its academic and non-academic personnel, and the academic rules and policies.
Introducing the UPPI to the new students was Dr. Nimfa B. Ogena. Meanwhile, Dr. Grace T. Cruz presented the Institute's academic rules and policies.
Ms. Cabaraban beams as she holds her certificate. Flanking her are, from left to right,
Prof. Maria Marquez, Dr. Elma Laguna, Dr. Nimfa Ogena, Dr. Grace Cruz, and Mr. Michael Del Mundo
Academic Excellence Award
The UPPI Academic Excellence Award is given to the postgraduate student with the highest GWA in the previous semester across the two masters' programs of the UPPI.
For the second semester of AY 2018-2019, the award was given during the student orientation on July 31 to MADEM student Maria Karlene Shaw I. Cabaraban. With the certificate comes a cash prize of P5,000.00.
This is the second time that Ms. Cabaraban bagged the award. She was also the awardee in the first semester of AY 2018-2019.
Share