Since the first quarter of 2018 up to the present, the UP Population Institute (UPPI) has been working on the National Migration Survey (NMS), a nationwide survey commissioned by the Philippine Statistics Authority (PSA) in collaboration with the University of the Philippines System (UP System). This survey arose from the need for baseline data on the mobility of the Philippine population as specified in the Philippine Statistical Development Program for 2011-2017.
NMS field workers for the National Capital Region pose with, among others, their trainors UPPI Director
Maria Midea M. Kabamalan (center) and Ms. Joy P. Cruz (center, second row) during their training in [Quezon City, Metro Manila; June 2018]
Cordillera Administrative Region (CAR) field workers for the NMS take a picture with, among others, Dr. Josefina N. Natividad
(eighth from right, second row) and Prof. Maria Paz N. Marquez (fifth from right, second row) during their training [Baguio City, Benguet; July 2018]
The NMS aims to provide information on the mobility of Philippine population in order to assist policymakers and program managers in evaluating and designing strategies for improving services and assistance to people going abroad or moving within the country. It is designed to provide baseline information on internal and international migration and has the following specific objectives:
The estimation of international and inter-regional migration flows and major migration streams;
The examination of different types of migration and characteristics of internal and international migrants;
The determination of levels, patterns and processes of internal and international migration; and
The identification of factors that affect the levels, patterns and processes of internal and international migration.
NMS field workers for CAR intently listen to a trainor during their training [in Baguio City, Benguet; in July 2018]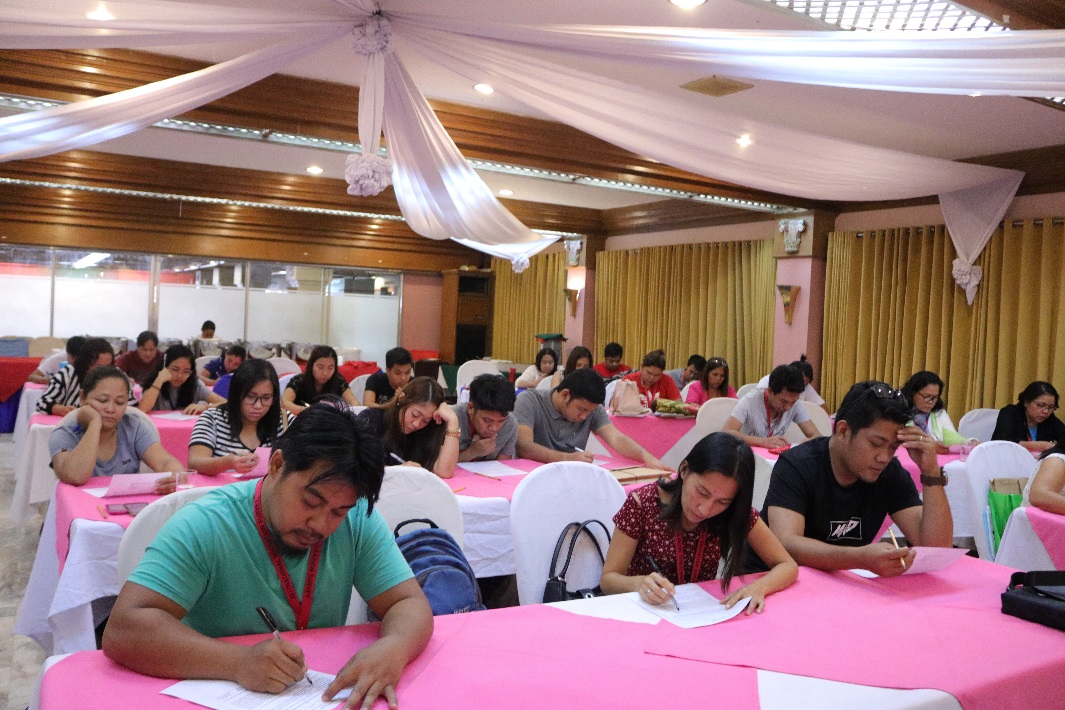 Field workers for the adjacent Regions 10 and 13 take an exam which tests their
comprehension skills of the survey materials during their NMS training in Cagayan de Oro[Cagayan de Oro City, Misamis Oriental; in June 2018]
The NMS randomly selected households using the 2013 Master Sample (MS) for household-based surveys. The 2013 MS is a two-stage cluster sampling design based on the 2010 Census of Population and Housing and updated using the results of the 2015 Census of Population.
In the 2013 MS, the Philippines was subdivided into distinct domains. It used the country's 81 provinces (including Davao Occidental), 33 highly urbanized cities (HUC) including the 16 cities in the National Capital Region, and 3 other urban areas (Pateros, Isabela City, and Cotabato City) as its sampling domains. These domains can provide precise estimates at subnational levels.
A field worker asks a question during the NMS training for Region 3 [Angeles City, Pampanga; June 2018]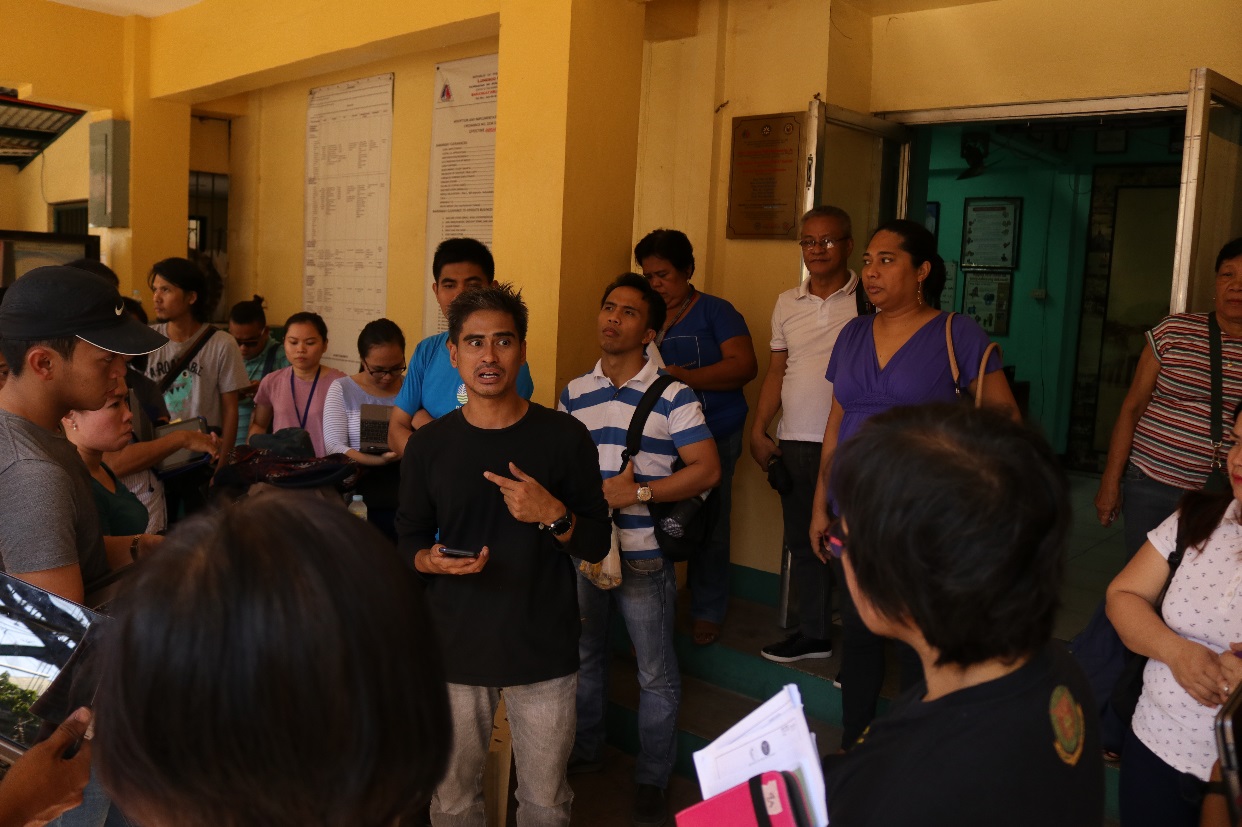 IT Specialist Leo Ocampo gives field workers final instructions before they move out for fieldwork practice
[Krus na Ligas, Quezon City; May 2018]
For this nationwide research project, the UPPI conducted trainings per region or regional clusters from May to July of 2018. All in all, the Institute trained 339 supervisors and field workers for a little over five a months of fieldwork from May 29 to November 11, 2018.
The survey covered a national sample of about 45,000 households. For data collection, Computer-Assisted Personal Interview (CAPI) was utilized. Two types of Questionnaires were used in the NMS namely, the Household Questionnaire (NMS Form 1) and Individual Questionnaire (NMS Form 2).
Field workers ask help from barangay workers in a barangay identifying the locations of target respondents for mapping and
clustering [Municipality of Luna, La Union; July 2018]
Field workers trod a flooded road to reach their target
respondents [Olongapo City, Zambales; July 2018]
With the completion of data collection, other succeeding component activities involved data processing, generation of statistical tables, and report preparation. The final report is expected to be released before the second half of this year.
A female field worker interviews a male respondent using CAPI in a rural barangay in Ilocos Norte
An interview by CAPI takes place underneath the shade of trees [Pinamalayan, Oriental Mindoro; July 2018]
The outputs from the NMS are expected to be utilized by agencies and individuals in government, universities and the private sector towards a better understanding of migration in the Philippines. In the end, the hope is for this program to inform the crafting of better policies that will address the causes and impacts of migration.
Share