Posted on:

21 September 2022
Erasmus+ exchange students are UPPI's newest demographers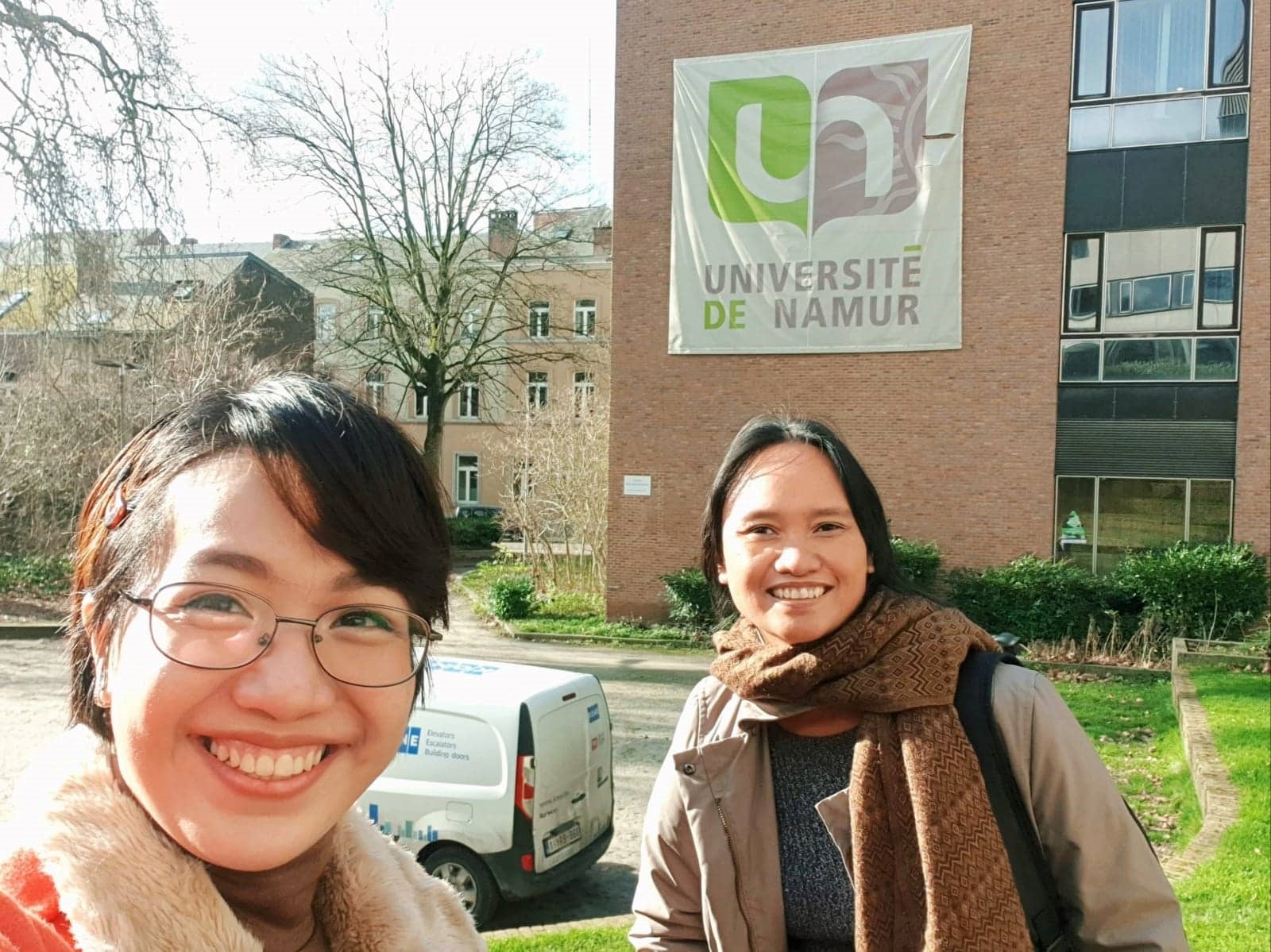 MADEM students Denise Musni and Jane Siwa at the University of Namur in Belgium.
The University of the Philippines Population Institute (UPPI) adds two new names to its roster of demographers, following the successful individual thesis defense of Master of Arts in Demography (MADEM) students Denise Hyacinth Joy B. Musni and Jane Alexandra A. Siwa, who recently participated in the exchange program between the UPPI and the University of Namur (UNamur).
Ms. Musni presented the findings of her theses entitled "Mind the gap: an analysis of the discontinuity between antenatal care and facility-based delivery among Filipino mothers" on 18 July 2022 via Zoom. Using data from the 2017 National Demographic and Health Survey (NDHS), her study draws attention to why despite progress in antenal care (ANC) coverage in the Philippines, a substantial number of women who have had at least one ANC checkup fail to proceed with facility-based delivery (FBD).
Supervised by Assoc. Prof. Maria Paz N. Marquez, the study found that human capital, PhilHealth coverage, lower birth order, and the quantity and quality of ANC services received are factors associated with FBD. It also highlights gaps in the country's "commodified" healthcare system, and recommends enhancing health infrastructure, giving subsidies for healthcare, and improving the quality of ANC services—ultimately towards the goal of preventing maternal deaths.
Meanwhile, Ms. Siwa also successfully defended her thesis entitled "Teen Motherhood, Education, and Employment Outcomes in the Philippines" on 05 September 2022 via Zoom. Supervised by her adviser Prof. Nimfa B. Ogena, the study enriches the findings on the linkage between teen motherhood and employment outcomes by examining the mediating effect of education.
Also using the 2017 NDHS data and working around the Human Capital Theory, Ms. Siwa's thesis found that teen mothers have lower odds of having work or having non-precarious (that is, not unpaid, contractual, nor part-time) employment, but her analysis using the Barron and Kenny method confirmed that this relationship is mediated by education. The research recommends interventions aimed at supporting teen mothers' education so they may still have gainful employment. Ms. Siwa also identified several areas for further studies, including comparing teen and non-teen mothers with similar background characteristics to substantiate Selectivity Theory.
Ms. Musni and Ms. Siwa were selected in 2022 for a six-month student fellowship at the UNamur Department of Geography in Belgium, through a collaboration with UPPI under the EU Erasmus+ Mobility Program.
Share