Posted on:

27 November 2017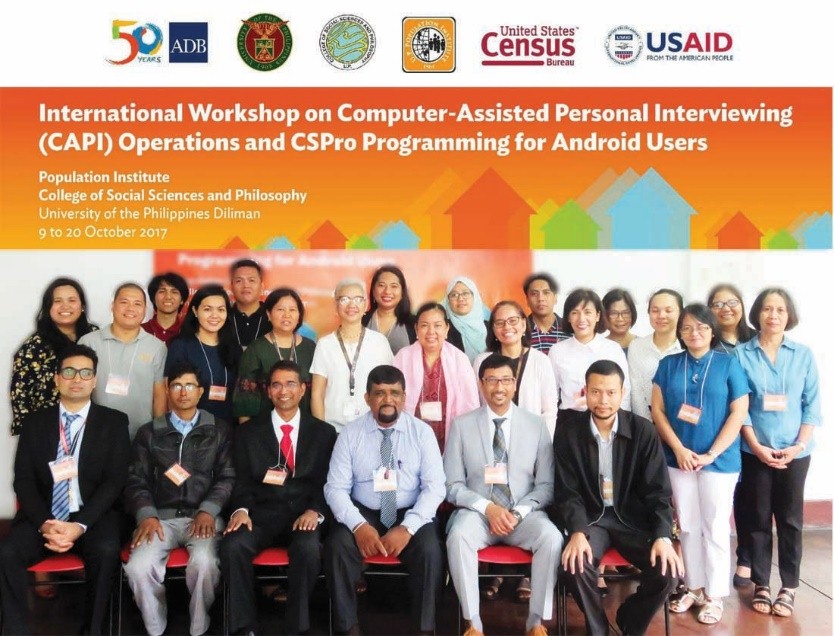 Trainers and participants pause for a formal picture
The UP Population Institute (UPPI), in partnership with the Asian Development Bank (ADB) and the United States Census Bureau (USCB), successfully conducted the International Workshop for Computer-Assisted Personal Interviewing (CAPI) Operations and CSPro Programming for Android Users on October 9-20, 2017.
Trainers and participants focused on their machines
Trainers were provided by the United States Census Bureau while participants came from Malaysia, Vietnam, India, Laos, and the Philippines. Specifically representing these countries were technical staff from the Department of Statistics Malaysia, General Statistics Office of Vietnam, Office of the Registrar General of India, Laos Statistics Bureau, and from local organizations namely the UPPI, Demographic Research and Development Foundation Incorporated, Research Institute for Mindanao Culture, Scalabrini Migration Center, and USC-Office of Population Studies Foundation Incorporated.
The aim of the training was to arm researchers with the fundamentals of using new technologies like smartphones and tablets towards the quicker and more efficient conduct of census and survey data collection using CAPI, originally undertaken using paper and pen. A large part of the workshop was dedicated to training the participants on developing CSPro for Android devices, a software developed by the USCB.
Share