Posted on:

13 February 2018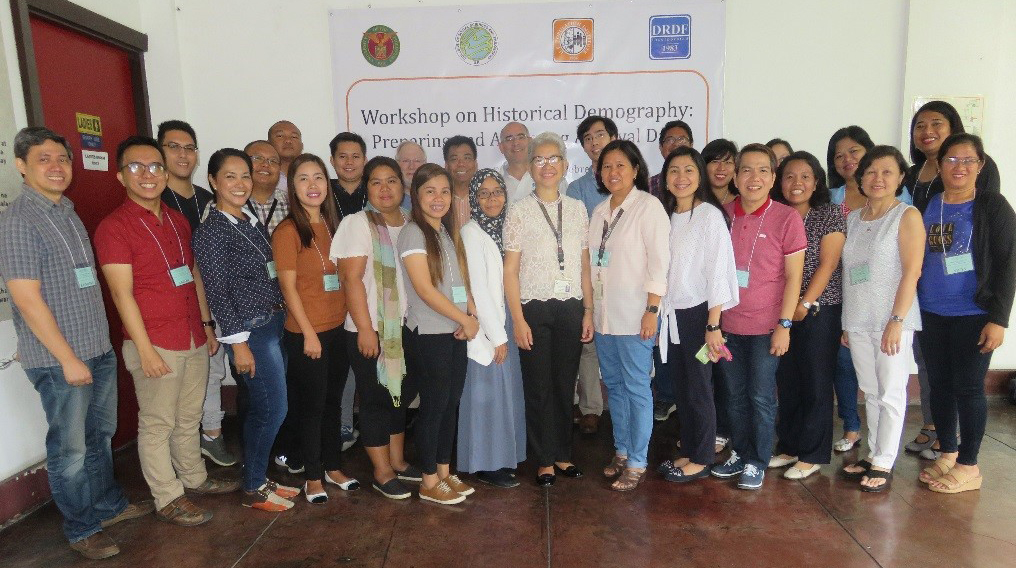 Group picture at the UPPI for workshop participants and speakers on Feb. 6, Day 1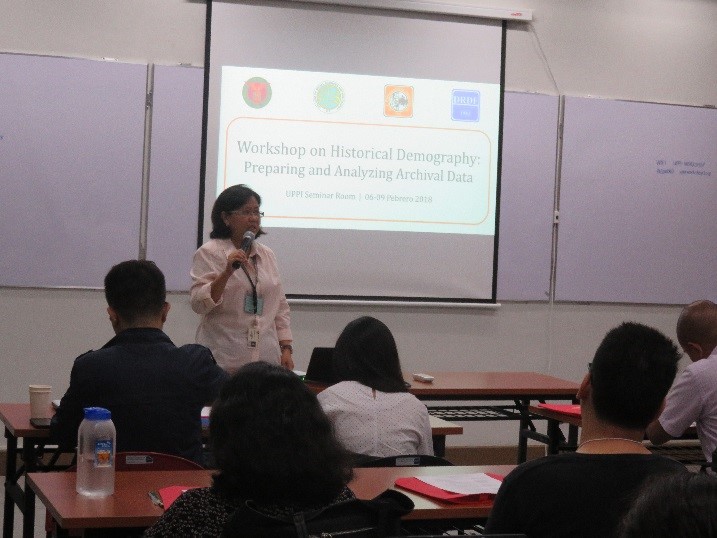 UPPI Director Dr. Maria Midea M. Kabamalan welcomes the workshop participants and speakers
The UP Population Institute (UPPI), supported by the UP Diliman Office of the Vice Chancellor for Research and Development, the Office of the Vice President for Academic Affairs, and the Demographic Research and Development Foundation successfully conducted its Workshop on Demography: Preparing and Analyzing Archival Data on February 6-9, 2018.
In attendance were a mix of researchers and professors from different social sciences disciplines belonging to various organizations across the country who aim to delve deeper into research on historical demography in the Philippines context.
Giving the workshop lectures were four guest scholars from different academic organizations here and abroad. The speakers in the four-day activity were Dr. Peter Xenos, Lecturer at the
CSSP Dean Dr. Maria Bernadette L. Abrera gives a talk
Dr. Peter Xenos presents his first of two lectures
College of Public Health Sciences, Chulalongkorn University and UPPI alumnus, Dr. Francis A. Gealogo, Professor of History at the Ateneo De Manila University, Dr. George C. Alter, Research Professor at the Population Studies Center, University of Michigan, and Dr. Diego Ramiro-Fariñas, Head of the Department of Population Studies, Spanish National Research Council (CSIC).
Dr. Xenos has been conducting research on Spanish-era parish civil registry records in the Philippines and is collaborating with Dr. Gealogo to advance research on Philippine historical demography under the Social History of the Philippine Population (SHoPP) Initiative where the UPPI is the intended secretariat and repository of research materials. Meanwhile, Dr. Alter and Dr. Ramiro have been involved in a number of studies concerning historical demography across Europe and Asia.
Dr. Francis A. Gealogo enumerates various information available in parish records
The workshop's primary aim is to orient and capacitate workshop participants with the theories, methodologies, historical sources, and new techniques in digital technology towards the advancement of local historical demography. Another is to coordinate the different and disparate research efforts across organizations with the UP Population Institute providing the institutional leadership to stand ardize the methods being applied in the different studies under the SHoPP Initiative.
By the conclusion of the workshop, the participants were able to come up with individual research plans tapping data from Philippine Spanish-era parish records.
Dr. George C. Alter gives his first of three lectures in the workshop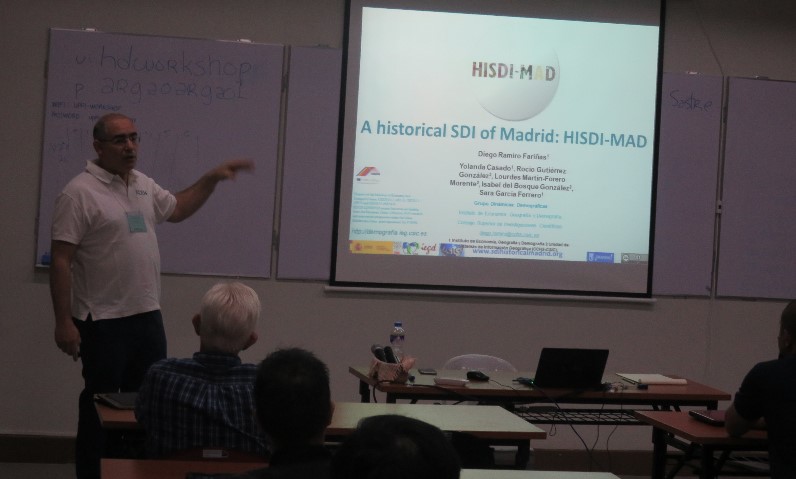 Dr. Diego Ramiro with his first of two presentations
Share